BOOK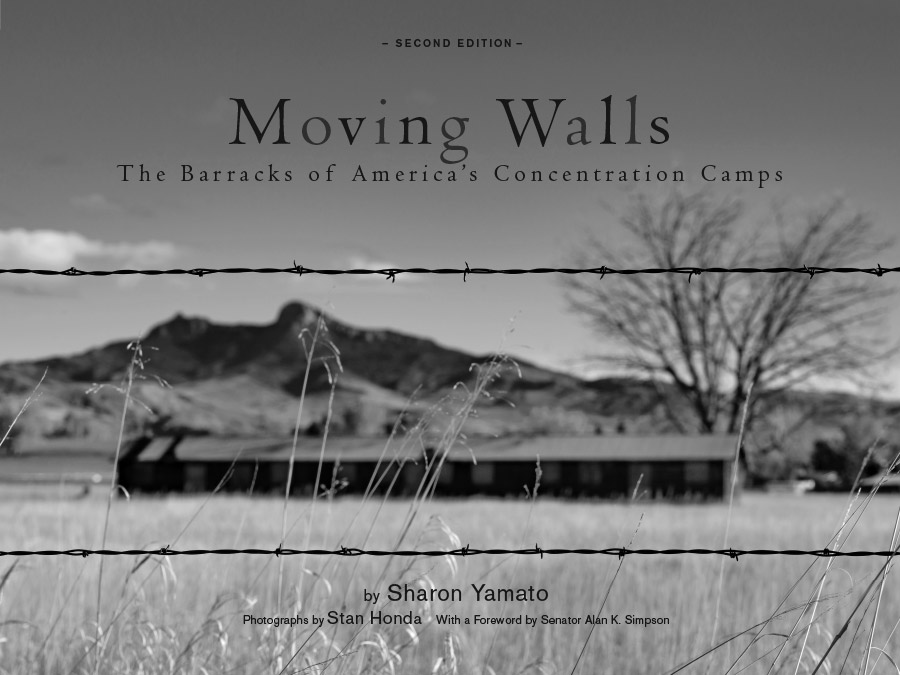 Moving Walls: The Barracks of America's Concentration Camps
By Sharon Yamato | Photographs by Stan Honda | Foreword by Senator Alan K. Simpson
Paper: 72 pp., 9 x 12", full color / $19.95
A film that tells the little-known story of what happened to hundreds of barracks used to house 11,000 people in the barren and desolate area of Heart Mountain, Wyoming. It is told through interviews with those who lived in them both during and after the war. Hastily constructed in a period of months, these buildings had gaping cracks in the walls that offered little protection from the harsh weather conditions in this remote high desert area.After the war, these same buildings were used as necessary shelter for veterans-turned-homesteaders who received them from the U.S. government for only a dollar apiece. MOVING WALLS brings together two tales of struggle and resilience: the confinement of a people based solely on race, and the settling of the West by modern pioneers starting new lives on the American frontier. An American nightmare becomes an American dream.
(2017) color, TRT 26 mins., US, Documentary
CREW
Sharon Yamato (writer, producer, director)
Sharon Yamato is a writer/filmmaker who wrote, produced and directed Out of Infamy: Michi Nishiura Weglyn, which won Honorary Jury Mention at the Tribeca Film Festival, and A Flicker in Eternity, based on the diary and letters of WWII veteran Stanley Hayami. She is the author of the book, Moving Walls: Preserving the Barracks of America's Concentration Camps, and co-author of Jive Bomber: A Sentimental Journey, a memoir of Bruce T. Kaji, the founding president of the Japanese American National Museum. As a consultant to the Japanese American National Museum, she has served as editor of the Museum Magazine and project director of The Encyclopedia of Japanese American History from A to Z (revised edition), An American Son: The Story of George Aratani, and More than a Game: Sport in the Japanese American Community. She has written articles for the Los Angeles Times and is currently a columnist for the Rafu Shimpo. She graduated from UCLA with bachelors and masters degrees in English.
Walt Louie (editor)
Walt Louie has been in the broadcast media business since 1974. Originally from San Francisco he has worked on productions in Beijing, Kyoto, Amsterdam, Düsseldorf, Hawaii, England, and for over thirty years in Los Angeles. As an editor, he has worked on award-winning documentaries, independent films, trailers and commercials. His documentary work includes Forbidden City, U.S.A., produced by Arthur Dong, winner of "Best Documentary of the Decade" at the Hawaii International Film Festival.  Recently, he edited Restoring The Light, a documentary shot entirely in China, which had its premiere at the Hawaii International Film Festival. He currently is a tenured professor at Santa Monica College in the Entertainment Technology department where he teaches post-production classes utilizing Premiere, Avid Media Composer, Adobe PhotoShop and After Effects. He is also the owner/editor with Flash Cuts, a commercial/promo editorial company in Los Angeles. www.flashcuts.com
Akira Boch (cinematographer)
Akira Boch has an MFA in film directing from UCLA Film School, and has directed numerous shorts, documentaries, and music videos. His award-winning feature film, The Crumbles, went on a nationwide tour of theaters, festivals and universities. He works as a Media Arts Specialist at the Japanese American National Museum, and is also a freelance director of photography.
Stan Honda (photographer)
Stan Honda is a New York-based photographer who worked as a photojournalist for 34 years, most recently for Agence France-Presse (AFP), the French news agency. His photographs from the September 11, 2001 attack on the World Trade Center were widely published, and three images are on display in the 9/11 Memorial Museum. Photographing the space shuttle program for five years was a highlight of his time at AFP. Personal projects include documenting the U.S. concentration camps where Japanese Americans were incarcerated during WWII. His parents and relatives were among those held. Stan helps organize the New York Day of Remembrance Committee annual programs marking the incarceration. A continuing project involves night sky landscapes, combining his long-time interest in astronomy and photography. He has worked as a National Park Service artist-in-residence at five national parks. He has had three solo gallery shows of his work and has been part of four group shows.